The distributed GPU-accelerated data warehouse has been long overdue. Recently BlazingDB, the distributed GPU-accelerated data warehouse, raised a $2.9 million seed round with participation from NVIDIA GPU Ventures and Samsung NEXT. While the tiny amount raised in this financing round may seem insignificant, NVIDIA and Samsung NEXT bring a lot more than funding to the table, with strategic support in technical, enterprise sales, and marketing expertise, a combination that under favorable market conditions may spur growth in highly promising data warehouse acceleration market.
Why database warehouse acceleration in the first place?
There is no such thing as good enough or fast enough in business intelligence.
Moore's law does not keep pace with Big Data.
Faster business analytics directly affects the bottom line of business and managerial decision making at all levels of enterprise.
The data warehouse acceleration market is forecast to grow at a compound annual growth rate (CAGR) 23.3% reaching $3.85 billion by 2024.
Brute force approach of throwing more CPU computing power at the BI problems doesn't scale up and hasn't for a very long time. Deploying more CPU power to process ever increasing data volume has a diminishing return effect. Three data warehouse acceleration technologies are currently emerging and much of the necessary knowledge, infrastructure and experience are already in place, though not widely. These technologies are in-memory computing, FPGA (field-programmable gate arrays) and GPGPU (general-purpose computing on graphics processing units).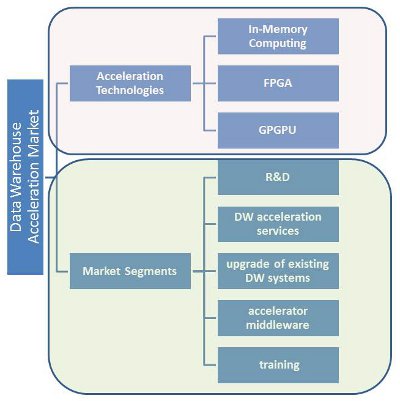 The report covers data warehouse (DW) acceleration products, technologies and services. The report provides detailed year-by-year (2019 – 2024) forecasts for the following data warehouse acceleration market segments:
New DW appliances by acceleration technologies: in-memory computing, FPGA and GPGPU;
DW acceleration market by R&D, DW acceleration services (planning, customization, support), upgrade of existing DW systems by accelerators (software & hardware), accelerator middleware, and training.
The report also provides projected DW acceleration market share by geography: Americas, EMEA, and Asia/Pacific.

Table of Contents
1. Market Report Scope & Methodology
1.1. Scope
1.2. Research Methodology
2. Executive Summary
2.1. Data Warehouse Acceleration Market: Key Findings and Forecasts
3. Data Warehouse Acceleration Market in Numbers
List of Figures
Fig. 1- Data Warehouse Acceleration Market Landscape
Fig. 2- Global Data Warehouse Acceleration Market Forecast 2019-2024, $Mln
Fig. 3- DW Acceleration Market as Percentage of Data Warehouse Market 2019-2024, %
Fig. 4- Cumulative Data Warehouse Acceleration Market 2019-2024, market share by regions, %
Fig. 5- New DW Appliances with In-Memory Acceleration: Market Forecast 2019 – 2024, $Mln
Fig. 6- New DW Appliances with FPGA Acceleration: Market Forecast 2019 – 2024, $Mln
Fig. 7- New DW Appliances with GPGPU Acceleration: Market Forecast 2019 – 2024, $Mln
Fig. 8- DW Acceleration R&D, Market Forecast 2019 – 2024, $Mln
Fig. 9- DW Acceleration Services (planning, customization, support): Market Forecast 2019 – 2024, $Mln
Fig. 10- Upgrade of existing DW systems by accelerator (hardware and software): Market Forecast 2019 – 2024, $Mln
Fig. 11- DW Accelerator Middleware: Market Forecast 2019 – 2024, $Mln
Fig. 12- DW Acceleration Training: Market Forecast 2019 – 2024, $Mln
List of Tables
Table 1 – Global Data Warehouse Acceleration Market Forecast 2019-2024, $Mln
Table 2 – New Data Warehouse Appliances by Accelerator Technologies: Market Forecast 2019-2024, $Mln
Table 3 – Data Warehouse Acceleration: R&D, Upgrade, Services, Middleware and Training Segments; Market Forecast 2019-2024, $Mln