Digital Camera Market is Going Through Interesting Times
"Uninteresting times" of peace and tranquility are over for digital camera manufacturers. The days of re-housing the same sensor over and over again in a new body with a few cosmetic changes and minor feature reshuffle are over. Canon, Nikon, Fujifilm and Olympus have played this game for too long. Now, squeezed between Sony attacking the high end and budget segments of photography market and smartphones decimating budget DSLRs and compacts, the digital camera manufactures have found themselves in unfamiliar territory – they have to innovate to survive and even the future of two market leaders Canon and Nikon is far from certain.
We run a survey of photographer community to analyze how camera manufacturers are doing in the eyes of photographers. The results of survey together with the latest sales data and financial reports of camera manufacturers gave us the clear picture of the troubled market. So, how can camera manufacturers differentiate their offers and increase value in these interesting times:
Sony need badly to rehaul entirely its menu system. This is where Canon shines, simple and intuitive.
By improving interoperability of increasingly mind boggling variety of mount types, lenses and communication protocols. Canon is the worst with four types of mount EF, EF-M, EF-M and RF. Confusion does not help. Existence of EF-M mount is unjustifiable. Canon need to introduce APC-C cameras and lenses with RF mount.
IBIS is must these days. This is for you, Fujifilm.
By going for high resolution. Canon badly needs high resolution full frame mirrorless with RF mount. High resolution can be a game changer for Olympus, it can really turn the tables for its deep-in-red Imaging Division. With its compact form factor advantage and high resolution Olympus can cut the place in the lucrative high end professional segment.
High dynamic range and high frame rate are always in demand.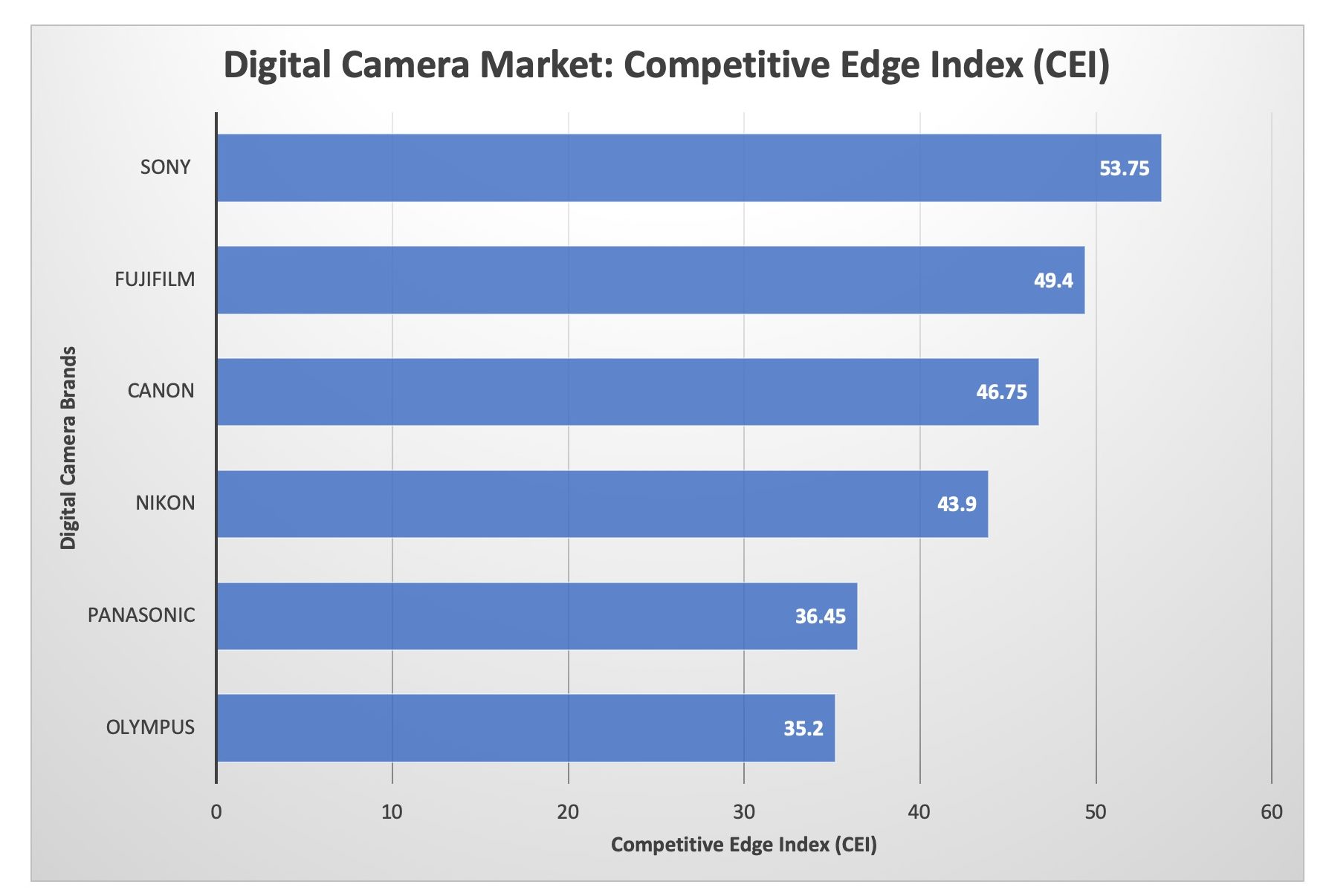 Digital Camera Market: Competitive Edge Index (CEI)
The Competitive Edge Index (CEI) analysis firmly places Sony as leader of the pack and Olympus should probably consider closing the shop for good.
Interested in more of this research and a chance to learn about opportunities in the increasingly competitive digital camera market? Our report features photographer-opinion-driven insights from our market intelligence platform.