Hydrogen is the new oil
$1 Trillion by 2025, $10 Trillion by 2040
Hydrogen market is already here and now and OPEC countries should be worried. The hydrogen technology revolution is driven by advances in catalyst engineering both for electrolysis of water on hydrogen production side and for fuel cells on hydrogen conversion to electricity side. The entire cycle of conversion of electricity to hydrogen and the reverse cycle of hydrogen conversion to electricity still have many engineering issues to address but the technology is here and it is maturing at the fast rate.
Carbon-free green hydrogen will be cost competitive by 2025
It's not about green sentiment, anymore. It is about national energy insecurity and being part of a huge emerging market of a kind that happens once in a century. The promise of hydrogen economy is huge – it completely excludes carbon from the energy equation. The major prerequisite for hydrogen economy is abundance of electric power from non-carbon sources – wind, solar and nuclear. While regulations, public sentiment and uncertainty mar the future of nuclear technology, the other two sources, wind and solar, are winning the world. Yet the common problem of renewable energy sources is highly variable production cycle which requires complex balancing act and storage solutions for seamless integration with the grid. That's where hydrogen technology shines, no other technology offers today the same conversion flexibility and energy density as hydrogen. The hydrogen market has a potential to reach into a trillion dollar territory in just a few years.
Hydrogen emerges as an universal energy carrier that balances wildly fluctuating output from renewable power generation, such as wind and solar photovoltaics, with grid power demand.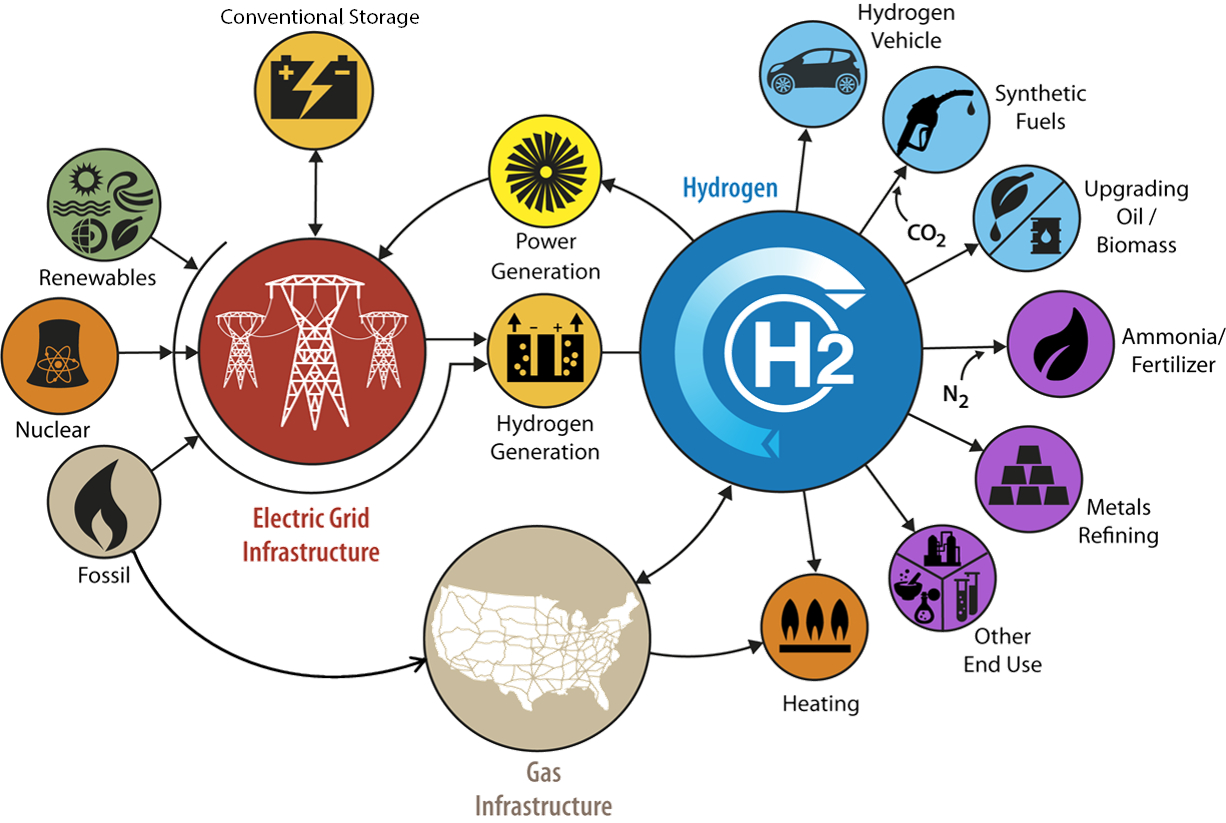 Image Credits: US Department of Energy
Concerns remain about the safety of hydrogen infrastructure but despite Hindenburg syndrome both government and corporate sectors are making inroads into the most promising energy technology of this century. Another concern to be addressed is the effect of inevitable hydrogen leaks on ozone hole.
The missing parts of hydrogen infrastructure jigsaw puzzle are moving into the right places pretty quickly. Recent hydrogen market developments:
Hydrogène de France (HDF), a French industrial company, in partnership with Ballard, a leading designer of reliable PEM fuel cell systems, is launching high-powered fuel cell production plant in Bordeaux. This plant, with an annual production capacity of 50 MW, will be the first in the world to mass produce high-powered PACs (greater than 1 MW).
Los Angeles wants to build a hydrogen-fueled power plant burning a mix of 30% hydrogen and 70% gas, with gradual transition to 100% hydrogen.
Kawasaki Heavy Industries (Japan) launches the world's first liquid hydrogen carrier ship.
Hydrogen-powered marine propulsion: Bloom Energy and Samsung Heavy Industries (SHI) have entered in collaboration to design and develop ships powered by solid oxide fuel cell technology. Bloom Energy is the world's leading provider of stationary fuel cells and SHI is one of the world's largest shipbuilding companies.
Toyota is moving fast to extend the modular fuel cell platform used in its zero-emission Mirai electric passenger car to other applications such as tractors and semi-trucks.
The leading companies developing hydrogen electrolysis solutions are McPhy, Siemens, ThyssenKrupp, ITM Power, Cummins (NYSE:CMI) and Parker Hannifin (NYSE:PH).
"Hydrogen fuel prices range from $12.85 to more than $16 per kilogram (kg), but the most common price is $13.99 per kg (equivalent on a price per energy basis to $5.60 per gallon of
gasoline), which translates to an operating cost of $0.21 per mile."
"While future price is uncertain, NREL estimates that hydrogen fuel prices may fall to the $10 to $8 per kg range in the 2020 to 2025 period. A kilogram of hydrogen has about the same energy content as a gallon of gasoline. FCEVs are about twice as efficient as gasoline-powered vehicles: an FCEV travels about twice as far as a conventional vehicle given the same amount of fuel energy. At $3.50 per gallon gasoline, a conventional vehicle costs about $0.13 per mile to operate, while an FCEV using $8 per kg hydrogen fuel would cost about $0.12 per mile."
Source: NREL, California Energy Commission
Hydrogen/Fuel Cell Stocks to Watch
Nikola Motors (NKLA)
Plug Power (PLUG)
Ballard Power (BLDP)
Bloom Energy (BE)
FuelCell Energy Inc (FCEL)
Interested in more of this research and a chance to learn about market opportunities in the fledgling hydrogen economy? Our market report features data-driven insights from our market intelligence platform.