Cloudflare is a leading provider of cloud-based services that enable companies to secure, optimize, and deliver their websites, applications, and other online services. The company's strong track record of growth, innovative technology, and expanding customer base make a compelling case for it to reach a market cap of $1 trillion within the next 10 years.
Here are several reasons why Cloudflare could achieve this market cap milestone:
Growing Market Opportunity: The demand for cloud-based services is rapidly increasing as more companies adopt digital business models. Cloudflare is well-positioned to benefit from this trend as its products and services are designed to improve the performance, security, and reliability of online applications and services. As the cloud market continues to grow, Cloudflare could capture a significant share of the market and continue to expand its customer base.
Innovative Technology: Cloudflare has a strong reputation for developing innovative technology that helps its customers to better manage and secure their online services. The company's products, such as its edge computing platform and security solutions, have been well-received by the market, and its continued investment in research and development could help it to stay ahead of the competition.
Strong Financials: Cloudflare has delivered impressive financial results since its IPO in 2019. The company's revenue has grown at a compound annual growth rate of over 40% in the past three years, and it has consistently reported strong gross margins. Cloudflare's financial strength could enable it to invest in growth initiatives and expand its product portfolio, which could fuel future growth.
Market Leadership: Cloudflare is a recognized leader in the cloud services market, with a strong brand and a loyal customer base. The company has demonstrated an ability to win business from large enterprise customers, and it has established partnerships with other leading technology companies. This market leadership could help Cloudflare to maintain a competitive edge and win market share in the years ahead.
Expansion into New Markets: Cloudflare has a history of expanding into new markets and verticals, such as the internet-of-things and mobile applications. The company's ability to identify new growth opportunities and quickly bring new products and services to market could help it to continue to grow its revenue and expand its addressable market.
Overall, Cloudflare's strong financials, innovative technology, market leadership, and expansion into new markets make a compelling case for the company to reach a market cap of $1 trillion within the next 10 years. While there are risks and uncertainties that could impact the company's future performance, the trends and factors discussed above suggest that Cloudflare is well-positioned to capitalize on the growing demand for cloud-based services and deliver strong returns for its investors.
Cloudflare: The Wall of Entropy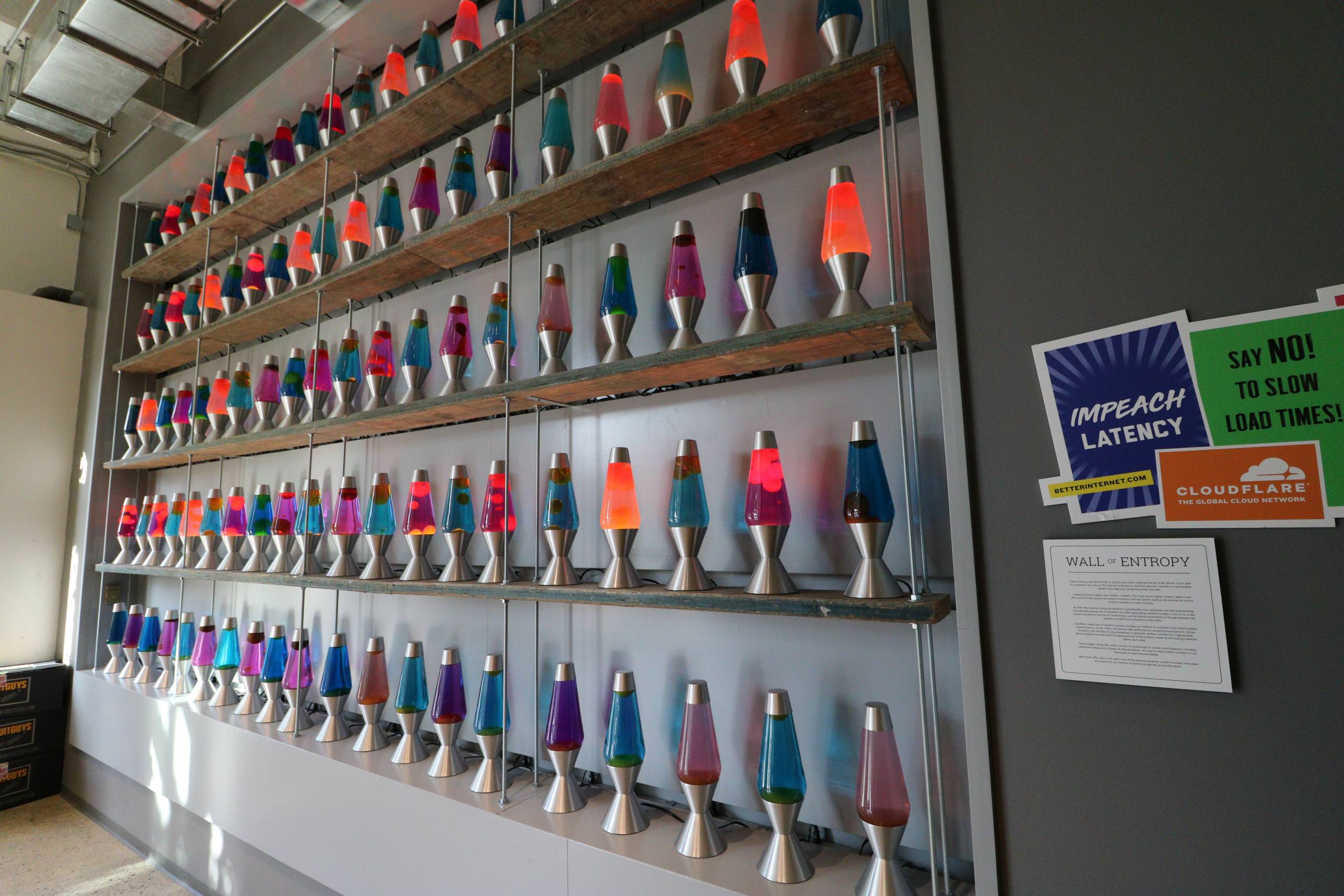 The Wall of Entropy is essentially a wall of lava lamps that are used as a source of random data, which is then used to generate the cryptographic keys that are used to secure websites and online applications.
The idea behind the Wall of Entropy is that it provides a more secure source of random data than traditional computer algorithms. This is because computer algorithms are not truly random and can be predictable, while the lava lamps are chaotic and unpredictable, providing a more robust source of randomness. The Wall of Entropy works by taking a video feed of the lava lamps and using an algorithm to convert the movement of the lava into random data. This data is then used to generate cryptographic keys that are used to secure online communications.
The Wall of Entropy has become a symbol of Cloudflare's commitment to embracing innovation and randomness in the eternal fight against ever-changing cyber threats, demonstrating the company's dedication to improving the security and reliability of online communications.