Smartphones with multiple lenses are becoming ubiquitous. The multiple lens camera L16, touted as a "DSLR killer", has been warily accepted by photographer community, yet a considerable backlog of orders has demonstrated wide market interest. Though the L16 camera still has a long way to go to compete with DSLR and mirrorless camera, its launch can be described as successful proof of concept. It's only a matter of time before multiple lens technology will come to DSLR and Mirrorless domains or will disrupt traditional camera market. Disruption is already there, the latest models of iPhone 11 and Google Pixel 4 combine multiple lenses with AI-powered computational photography algorithms to deliver stunning image quality.
What is the multiple lens camera?
Definition: The multiple lens camera is a dedicated digital imaging device capturing image through array of multiple lenses and combining several images into one. The name of the game is computational photography/image fusion.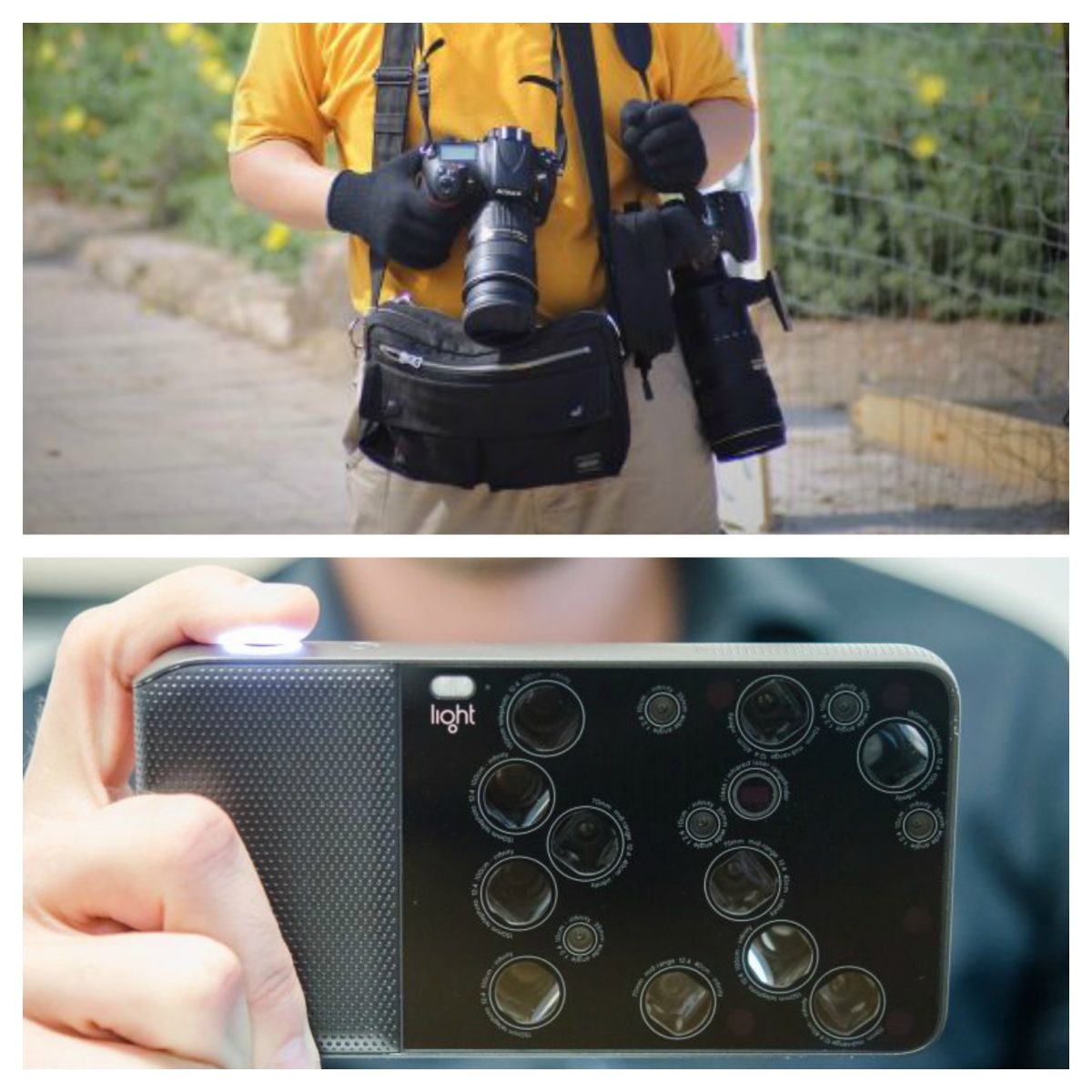 What is the rationale of multiple lens digital camera?
enhanced image quality as a result of image fusion from several sources;
small form factor;
extended focus range;
higher resolution;
improved dynamic range;
capability to measure distance to the object and change focus in post processing.
We foresee two major camera design scenarios:
DSLR or mirrorless camera with traditional interchangeable lens, enhanced with additional microlens/microlenses in the same body;
Dedicated multiple microlens camera (built on the same principle as L16).
The report also considers scenario of fixed lens camera enhanced with microlens and dedicated low-end and high-end multiple lens imaging devices.
Multilens imaging technology may come to the market as a powerful disruptive force to very dynamic and shifting digital camera marketplace, leveraging optical capabilities with computational power. Smartphone companies are already actively pursuing multiple lens technology as a high end product differentiator, improving both product positioning and profit margin. It would not be exaggeration to say that all major digital camera manufacturers so far have missed the multiple lens trend. Two market leaders, Canon and Nikon, are slow on innovation, practicing rather evolutionary than revolutionary development strategy. Nikon has somewhat rehabilitated itself with the launch of D850, a great camera by itself but still evolutionary, not revolutionary. Canon especially lags behind in sensor-level processing technology, following far behind Sony maintaining lead in sensor technology. More in the report…
The report explores multiple lens digital camera market scenario and covers key concepts and developments associated with multiple lens imaging technology and its impact on existing ecosystem and market landscape.
The report provides detailed year by year forecasts of shipment value, retail value, unit value (both shipment and retail) and retail sales for the following multiple lens digital camera market segments:
Microlens enhanced interchangeable SLR digital camera market segment;
Microlens enhanced interchangeable mirrorless digital camera market segment;
Microlens enhanced fixed lens digital camera market segment;
Low-end dedicated multiple microlens digital camera market segment;
High-end dedicated multiple microlens digital camera market segment;
The report estimates impact of nascent multiple lens imaging technology on the preeminent digital camera market, in shipment value and retail sales terms, year by year. The report also estimates cumulative multiple lens digital camera market share by geographic region.

Table of Contents
1. Market Report Scope & Methodology
1.1. Scope
1.2. Research Methodology
2. Executive Summary
3. Multiple Lens Digital Camera Market in Numbers
List of Figures
Fig.1 Cumulative Multiple Lens Digital Camera Market Share by Geographic Regions, %
List of Tables
Table 1 – Microlens Enhanced Interchangeable Lens SLR Digital Camera Market
Table 2 – Microlens Enhanced Interchangeable Lens Mirrorless Digital Camera Market
Table 3 – Microlens Enhanced Fixed Lens Digital Camera Market
Table 4 – Low-End Dedicated Multiple Microlens Digital Camera Market (Not Including Smartphones)
Table 5 – High-End Dedicated Multiple Microlens Digital Camera Market (Not Including Smartphones)
Table 6 – Market Impact of Multiple Microlens Technology on Digital Camera Market